A Little Insight
Into the world of Plein Air Painting
Painting En Plein Air Photo Gallery
I am often asked what it is like to paint outside ?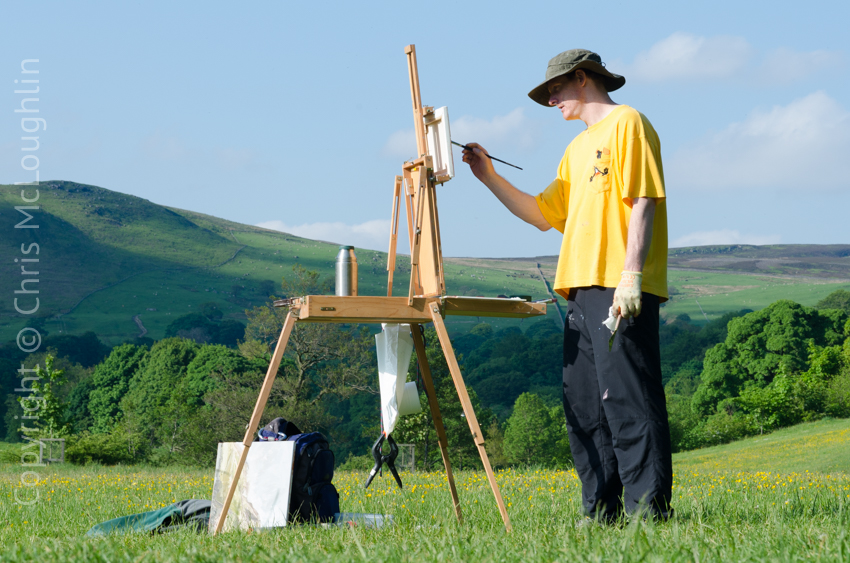 On location in the Yorkshire Dales
And my reasons are
very straight forward. As an Oil Painter, I paint mostly from observation and painting outside or on location, simply lets me see and absorb so much more information.
I see painting as much more than just translating a subject, but a form of communication and expression, it's a language that we as painters learn to express with our marks and colours. So painting from life enables me to feel the atmosphere of a place, and I respond by capturing that magical identity onto canvas with paint.
Painting on location is rarely easy, it is completely spontaneous and you are painting in the moment. I just love it
It's all about planning and organizing your painting Kit
It's simplicity and purity let's your painting evolve
A few thoughts from some of my Students !
I started attending Chris's oil painting class 6 weeks ago. I was totally new to using oil paint but Chris's beginners class was perfect for me to get started. Chris has an abundance of experience in oil painting and he is enthusiastic in his teaching of the subject. There are mixed abilities in the class I attend but if you are keen to learn Chris is certainly the right person to be teaching you. I have learnt so much already in the short time I have been attending Chris's class and look forward each week to the next session. Sarah
Each week I attend two of Chris's classes one in Southport and one at Cedar Farm. The classes are very relaxed and a lot of fun with the other students.
Chris is a great teacher! At first I knew absolutely nothing about using oils. Now I feel well equipped to tackle almost any painting. Chris encourages us to develop our own style of expression – each of us has adopted quite different styles.
I would encourage anyone who enjoys painting to join Chris's class. You will learn so much more. Kathy
I attend Chris classes at Cedar Farm every Wednesday and enjoy them thoroughly. Chris is a great artist who can also share his love of painting and skills with his students. What makes him a special tutor is the way he helps each student in developing their individual style, always giving good personalised advice and encouragement. Classes are relaxed, with a very friendly atmosphere and always productive. Chris has also taken us out to paint en plein air which was great fun and a real discovery. Elisabeth